The Daddy of Rhythm and Blues: John R.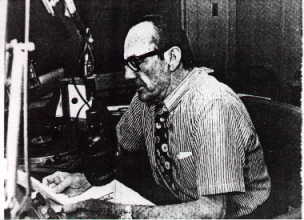 By Dale R. Patterson
"He liked black music more than I did." Jackie Beavers
"Gentleman John", "John R.", or just plain John Richbourg, it didn't matter what name you knew him as. This legendary late-night voice of Nashville's WLAC will always be regarded with awe whenever great rhythm and blues dee-jays are talked about. He truly was "The Daddy of Rhythm and Blues."
South Carolina-born John Richbourg brought his friendly baritone to WLAC in 1942, first as a newscaster. His roots were in acting - but a lack of paying parts led him to radio in 1941 at Charleston, S.C.'s WMTA before moving to WLAC a year later. After leaving in 1943 for three-year stint in the Navy, he returned to WLAC after the war and stayed for three decades.
When Richbourg returned, he resumed newscasting but also filled in at times on Gene Noble's nightly rhythm & blues show. Soon, the man who would be known on-air as John R. won his own late-night R&B show (1-3 a.m.) and quickly became a "must-hear" among r&b fans within reach of WLAC's powerful 50,000-watt signal. His policy of playing mostly dubs (records no one else had yet) endeared him to musicians, blacks and hip young whites.
John R. was a study in perceived opposites. He was so believable, so natural as an r&b dee-jay that most of his listeners assumed he was black (he was white). Unlike many of his contemporaries, he was not a loud-mouthed hepcat, as some would expect him to be. Quite the opposite, he was in truth a shy, private man who liked to help people for the sake of helping them rather than for personal gain. Many a fledgling dee-jay (including Bob Smith, better known as Wolfman Jack) came to visit him and left enriched by the experience. The list of major recording artists he introduced to a national audience for the first time numbers in the dozens. It includes Hall of Famers Otis Redding, Aretha Franklin, Chuck Berry, James Brown, Marvin Gaye, Bo Diddley, Little Richard, Jackie Wilson and B.B. King.
One of those Richbourg helped, Motown songwriter Jackie Beavers, called John R. "too good a man for the record industry. He was one of the most kind-hearted fellas you have ever met." Joe Simon, another performer he helped, said: "he was the first man I met who could swing that much weight yet be that nice."
Richbourg, it is said, appeared to live at the station but a life elsewhere was evidenced by his second wife Margaret and their six children. He got heavily involved in the recording business, promoting and managing acts. He even had his own record label and was an anamoly in the rough-and-tumble recording business in that as far as he was concerned, a handshake was as good as a written contract. That quality was admirable - but it did get him in trouble - one Nashville musician supposedly owed him $70,000.
John R. retired from radio at age 62 on Aug. 1, 1973, leaving his six-night-a-week post rather than play pop hits and rock 'n' roll as demanded by station management. More than a decade after his departure, fan mail still kept pouring in (he received an estimated 250,000 letters during his career).
In 1985, many of the artists John R. had helped turned up for a memorable benefit for the ex-dee-jay, who was ailing both financially and physically. If a measure of man a man is his friends, then John Ritchbourg stood tall March 26, 1985 as James Brown, B.B. King, Rufus Thomas and Charlie Daniels among others gave Richbourg a rousing salute. At the end, John R. whispered to his wife that he never thought he meant anything at all to them as a person.
John Richbourg, his body ravaged by cancer and his voice reduced to a whisper, died Feb. 15, 1986 at age 75. At his funeral, Ella Fitzgerald sang "Amazing Grace" and "Because He Lives" and his old friend Jackie Beavers performed a song John R. had requested, "Eye on the Sparrow."
Perhaps the most telling words about John R. were spoken by Beavers: "he loved black music more than I did."
---
RETURN TO ROCK RADIO SCRAPBOOK